China will account for 95% of the announced n-type cell manufacturing capacity worldwide. Credit: Trina Solar
The report also forecasts the supply of n-type cells to see a significant uptick worldwide. In 2023, the combined operating and announced capacity will be 555GW, increasing from 131GW in 2022. This will rise significantly to 1,122GW in 2024, representing a 102.2% increase. The substantial growth will be slower after 2024, as the combined capacity will only increase by 16.4% to 1,306GW.
Additionally, demand for p-type cells has begun declining, and it will only represent 17% of supply by 2026. The combined operating and announced capacity of p-type cells in 2023 will be 641GW, and it will increase to 981GW in 2026, which means that the global demand for p-type cells will only be around 167GW.
Wood Mackenzie said the surplus p-type cell production lines must be upgraded to tunnel oxide passivated contact (TOPCon) as soon as possible. Otherwise, they will be closed gradually.
Currently, concerns about the market's oversupply are mainly aimed at old production lines that produce lower efficiency products, such as the p-type and M6 cells, according to Wood Mackenzie.
Moreover, the energy analyst said when other countries are planning to expand their existing passivated emitter and rear cell (PERC) capacity, China is engaging in a rapid technology upgrade that will widen the gap between domestic and overseas production advancements, making Chinese modules more competitive than those made in overseas markets.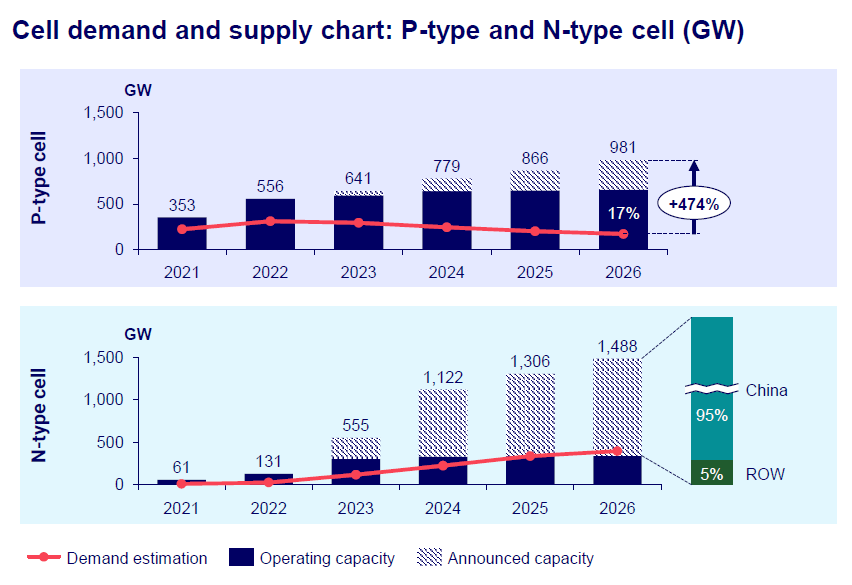 Graph showing demand for p-type and n-type cells. Credit: Wood Mackenzie
The report stated that China's production capacity of polysilicon, wafers, cells and modules will be able to meet annual global demand in 2032. By that year, the global annual installation capacity will reach 359GW, but China's polysilicon and wafer production capacity will be as high as 1,012GW and 873GW respectively.
Moreover, China's cell and module production capacity in 2032 will reach 1,059GW and 1,012GW respectively.

However, oversupply could be a problem for some of the Chinese solar manufacturers.
Wood Mackenzie senior consultant Huaiyan Sun said: "Oversupply will undeniably hinder some of the current expansion plans. More than 70GW of capacity in China has been terminated or suspended in the past three months."
In September, locally made modules in China cost only US$0.15 per watt, much lower than that of the US (US$0.43), Europe (US$0.3) and India (US$0.26). Wood Mackenzie said the rapid decline in upstream raw materials cost, coupled with market competition caused by oversupply, pushed module prices to levels last seen three years ago.
The report added that the solar manufacturing industry in China is entering a challenging time, as module manufacturers will be forced to take orders at a loss, reduce capacity, or shut down entirely.
(The above content is reproduced from pv-tech,BySimon Yuen)
Disclaimer: This website reproduces information from cooperative media, institutions or other websites. The publication of this article for the purpose of transmitting more information,and it does not imply endorsement of its views or confirmation of the authenticity of the content. All information on this website is for reference only and can't be used as the basis for transactions or services. If there are any infringement or other issues in the content of this website, please notify it in time, then this website will be promptly modified or deleted. Anyone who logs in to this website in any way, or directly or indirectly uses the information on this website shall be deemed to have voluntarily accepted the binding of this website statement.